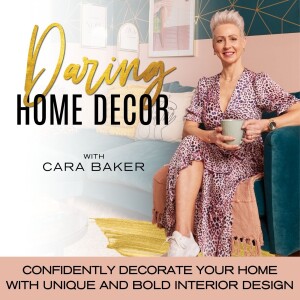 Monday Sep 25, 2023
EP 1 // Get Daring With Your Home Decor, Meet Cara, And Let's Fly The Flag For Unique And Bold Interior Design Together!
Welcome to the Daring Home Decor podcast. If you're looking for help to get bold and brave with decorating your home, using colour, pattern and personality, jump off the neutral treadmill, using the tools and know how to create a unique and fun home AND without worrying about what your friends might think, then YOU'VE COME TO THE RIGHT PLACE!
In my very first episode you can get to know me and my mission for this exciting new show. Let's fly the flag for colourful and quirky interior design together and prepare to get creative and wild with decorating our homes!
RESOURCES FOR YOU!
Get Your Free Home Colour Palette Guide
www.caradise.co.uk/home-colour-palette
Join The 'Daring Home Decor' Community
www.facebook.com/groups/daringhomedecor
Follow me @caradiseinteriors on Instagram 
www.instagram.com/caradiseinteriors
Hang out on my website
Comments
(0)
To leave or reply to comments, please download free Podbean or