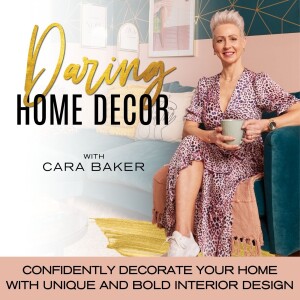 Tuesday Nov 14, 2023
EP 10 // Let's Talk Different Interior Styles From Boho To Maximalism, And How To Find Yours
In today's episode, I explore the diverse world of interior design styles and give you an overview of some of the ones that align with daring decor. So tune in to brush up your knowledge on different decor styles.
Covering dopamine decor - vibrant colours (colors), energetic patterns and playful unconventional elements, eclectic decor - an exciting mixture of styles, maximalist decor - more is more, less is a bore, bohemian decor - natural and cultural vibe, vintage/retro, and last but not least a splash of Hollywood glam!
And if you're confused about what yours is, I've got that covered with a few nuggets of advice on how to find YOUR unique interior style.
Make sure you grab your FREE home colour palette workbook for your style kickstart, and come and share your favourite styles in my Daring Home Decor community. Links below.
Enjoy and share,
Cara xox
RESOURCES FOR YOU!
Get Your Free Home Colour Palette Guide
www.caradise.co.uk/home-colour-palette
Join The 'Daring Home Decor' Community
www.facebook.com/groups/daringhomedecor
Follow me @caradiseinteriors on Instagram 
www.instagram.com/caradiseinteriors
Hang out on my website
Comments
(0)
To leave or reply to comments, please download free Podbean or