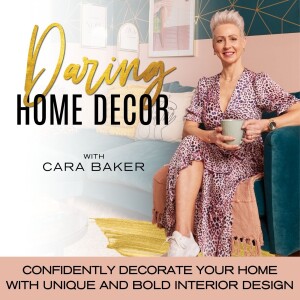 Monday Sep 25, 2023
EP 2 // Unsure Where To Start? How To Create A Personal Colour Palette As A Foundation For Your Home Decor
Today we're diving right in and getting down to the nitty gritty of where to start for the perfect foundation to your daring decor! This is the basis for all of your interior design moving forward.
I take you step by step through how to create a colour palette for your home including, the colour wheel, colour psychology, hex codes and generating your very own custom unique palette! Eeeeek!!! And to make this even easier for you and hold your hand in the process, I've created a FREE guide to accompany this episode. Grab your copy now below and once you're done, as your homework, share your colour palette on my brand new Facebook group below.
You'll also get to hear about some of my past colour choices which were questionable to say the least. So if you're still throwing spaghetti at the wall, just know you're not alone and that I've absolutely been there too sister! 
Enjoy and share,
Cara xox
RESOURCES FOR YOU!
Get Your Free Home Colour Palette Guide
www.caradise.co.uk/home-colour-palette
Join The 'Daring Home Decor' Community
www.facebook.com/groups/daringhomedecor
Follow me @caradiseinteriors on Instagram 
www.instagram.com/caradiseinteriors
Hang out on my website
Comments
(0)
To leave or reply to comments, please download free Podbean or