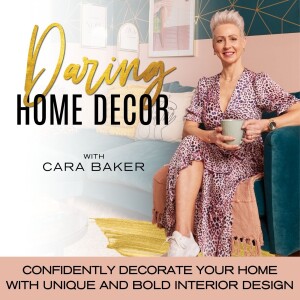 Tuesday Oct 03, 2023
EP 4 // My Top 6 Interior Design Shows You Need To Watch Now To Up Your Home Decor Game
Today's instalment was inspired by an episode of the TV show, Your Home Made Perfect. It celebrated all the juicy colour and pattern with regards to interiors and how a new design movement in London is embracing this style of quirky and unique design.
I'm excited to share with you my 6 favourite home decor shows and the reasons why you should watch them either purely for entertainment value or to help you up your decorating game! If you love innovative interior design you're not going to want to miss this episode, so get your pen and notebook ready to jot down these must watch shows.
Observing others step outside their comfort zone with interior design will give you the confidence to get more daring with yours!
Come and share YOUR favourite home decor shows in the Facebook group. And if you haven't yet joined, just follow the link below!
Enjoy and share,
Cara xox
RESOURCES FOR YOU!
Get Your Free Home Colour Palette Guide
www.caradise.co.uk/home-colour-palette
Join The 'Daring Home Decor' Community
www.facebook.com/groups/daringhomedecor
Follow me @caradiseinteriors on Instagram 
www.instagram.com/caradiseinteriors
Hang out on my website
Comments
(0)
To leave or reply to comments, please download free Podbean or