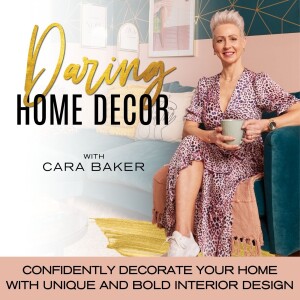 Tuesday Oct 10, 2023
EP 5 // Clever Candle Care Tips For A Cosy Autumn / Fall And Why You'll Want To Switch Budget Brands For Luxury
As we move into a new season and get cosy for autumn / fall, in today's episode, I'm sharing all the deets on how to care for your candles to get the most out of them and make the best choices when purchasing. 
You may think all candles are the same, but there's a reason for the price difference! And if you thought (as I used to) that burning a candle is just a matter of lighting the wick, then think again. Listen now to find out clever tips on candle care and the do's and don'ts you need to know.
From different types of waxes and scents, to wick trimmers and candle warmers. Tune in for the lowdown and you'll be burning like a boss!
Don't forget to join me inside the Daring Home Decor Facebook group, where you can ask all your candle related questions. Just follow the link below.
Enjoy and share,
Cara xox
RESOURCES FOR YOU!
Get Your Free Home Colour Palette Guide
www.caradise.co.uk/home-colour-palette
Join The 'Daring Home Decor' Community
www.facebook.com/groups/daringhomedecor
Follow me @caradiseinteriors on Instagram 
www.instagram.com/caradiseinteriors
Hang out on my website
Comments
(0)
To leave or reply to comments, please download free Podbean or