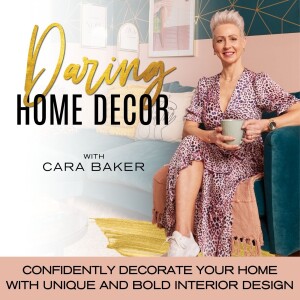 Tuesday Oct 31, 2023
EP 8 // The Trick To Knowing When To Expand Your Home Colour Palette And When To Rein It In
You probably feel that getting your colour palette just right is a nightmare balancing act. You need to know when enough is enough, and if you should add more colours to your home decor. Even though interior design isn't an exact science (nor should it be!), I want to continually feed you information and tips so you can tweak your home colour palette until you hit the sweet spot.
That's why I'm talking more on colour (color) in today's episode so you know where to start, when to expand your home colour palette, and when to rein it in.
After listening to the nuggets of advice, head on over to the Facebook group to ask your home colour palette questions, and don't forget to grab your copy of my free guide below!
Enjoy and share,
Cara xox
RESOURCES FOR YOU!
Get Your Free Home Colour Palette Guide
www.caradise.co.uk/home-colour-palette
Join The 'Daring Home Decor' Community
www.facebook.com/groups/daringhomedecor
Follow me @caradiseinteriors on Instagram 
www.instagram.com/caradiseinteriors
Hang out on my website
Comments
(0)
To leave or reply to comments, please download free Podbean or