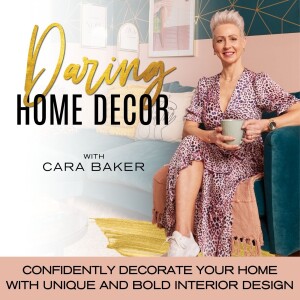 Tuesday Nov 07, 2023
EP 9 // This May Shock You But You Don't Have To Paint Your Ceilings White
I'm so passionate about banishing all of the white ceilings in my home and I want to share my passion with you so you can get joy from unleashing your creativity on your fifth walls.
Learn why we started painting ceilings white and why you need to start including the fifth wall in your home decor. If you've been blindly painting your ceilings white, then you're not alone. So tune into this episode to learn how you can start to break the default 'rules' when it comes to decorating.
Follow me on Instagram and browse my grid to see what I've done with the ceilings in my home.
Enjoy and share,
Cara xox
RESOURCES FOR YOU!
Get Your Free Home Colour Palette Guide
www.caradise.co.uk/home-colour-palette
Join The 'Daring Home Decor' Community
www.facebook.com/groups/daringhomedecor
Follow me @caradiseinteriors on Instagram 
www.instagram.com/caradiseinteriors
Hang out on my website
Comments
(0)
To leave or reply to comments, please download free Podbean or